At the same time as the establishment of the
Order of the Indian Empire
, a third Indian order was established, this was the Imperial Order of the Crown of India. It too was established by letters patent of 31 December 1877, following the adoption by Queen Victoria of the title 'Empress of India' in 1876.
Princess Thyra of Denmark
This order was
to be enjoyed by the Princesses of Our Royal House and the Wives or other female relatives of Indian Princes and others to be by Us selected, upon whom We shall from time to time think fit
These other persons were generally the vicereine and wives of the Governors of Madras, Bombay and Bengal, the Principal Secretary of State for India and the Commander-in-Chief in India. Women who were ruling members of Indian princely houses were eligible for membership of the Orders of
the Star of India
and
the Indian Empire
.
There was one class of membership: Companions (CI).
The insignia was a badge consisting of the royal and imperial monogram VRI in diamonds, turquoises and pearls, surrounded by an oval frame and surmounted by a jewelled imperial crown.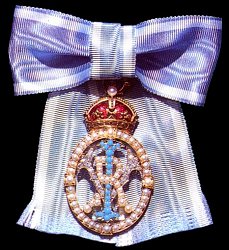 The order went into abeyance on the granting of independence to India and Pakistan. The last companions appointed were the then Princesses Elizabeth and Margaret on 12 July 1947. The Queen is the last surviving member of the order.
The last surviving Companion of the Imperial Order of the Crown of India