A weekly round-up of my book news.
What I've been reading...
Carrying on with
Darwin's Armada
. I've really quite enjoyed reading about Hooker and Huxley - I must dig out a book on the Ross expedition.
On the fiction front, I've carried on with
The Voyage of the Space Beagle
and started Jim Butcher's
Grave Peril
, another from the Dresden Files.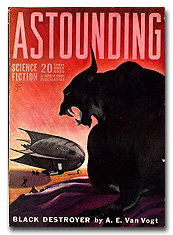 First appearance of the short story
As my post on retrofuturism
proved so popular, I thought I'd share some covers from old editions of
The Voyage of the Space Beagle
.
The book, which was first published in 1950, was a 'fix-up' of a number of short stories, the first of which - 'Black Destroyer' - appeared in
Astounding Science Fiction
for July 1939. One of the stories was allegedly the inspiration for
Alien
, and van Vogt got a pay-off from 20th Century Fox after threatening to sue.
Lots more versions of the cover
here
.
First edition of the novel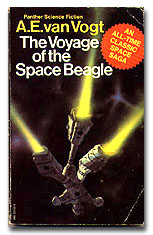 The less interesting (to me) 1977 version I own.
What I've bought...
Gail Carriger,
Souless
- 30p
Stieg Larsson,
The Girl With the Dragon Tattoo
- 30p
Leon Tolstoy,
War and Peace
- £1.75
Siegfried Sassoon
,
The War Poems
- 95p
Herodotus,
Snakes with Wings and Gold-Digging Ants
- 95p
Bernard Ireland,
The Fall of Toulon
- £1.99
Paul Jordan,
The Atlantis Syndrome
- £1.99
Marilyn B. Ogilvie,
Searching the Stars: The Story of Caroline Herschel
- £1.99
And finally...
I've been introduced to
goodreads.com
. By me listing the books I own and rating those I've read they've produced some interesting recommendations for me to look out for. I've also been 'befriended' by one of the authors I've rated, which is an interesting situation!