Edward Stanley, was born in London on 1 January 1779, the second son and seventh child of Sir John Thomas Stanley, sixth baronet, of Alderley Park, Cheshire, and his wife Margaret Owen (a Welsh heiress). His elder brother, John Thomas, was first Baron Stanley of Alderley, and father of Edward John Stanley, second Baron Stanley and first Baron Eddisbury.
Edward's initial hopes were to enter the Royal Navy, but his family refused to allow that. Accordingly, he was educated at St John's College, Cambridge and ordained in 1802. In 1805 the family patronage was used to appoint him Rector of Alderley, a post he held until his appointment as Bishop of Norwich in 1837. Here he took a great interest in the schools in his parish and the Church's social role: founding temperance societies, mechanics' institutes, and statistical societies.
He was an active naturalist, publishing
A Familiar History of Birds, their Nature, Habits, and Instincts
in 1836 and studied geology. He was elected an Fellow of the Royal Society and President of the
Linnean Society
.
Norwich Cathedral
In 1837 he was nominated by Lord Melbourne to the Bishopric of Norwich, vacant by the death of the notoriously indolent Bishop Bathurst. Here he proved himself an energetic bishop in the new Victorian mold - plurality was clamped down on and ecclesiastical discipline enforced. He had 173 new parsonages built, doubled the number of schools and rendered them more efficient. The examinations for ordination were carefully conducted, and Stanley made himself personally acquainted with the previous career of every candidate.
He was a frequent attendee of the House of Lords, frequently speaking in support of Whig policies, such as Catholic relief, toleration of dissenters and, notably, the ragged school movement. His political liberalism put him at odds with his diocese, but he was held in high personal regard.
In August 1849 he started for a tour in Scotland with his wife and daughters. At Brahan Castle in Rosshire he was taken ill, anddied from congestion of the brain on 6 September 1849. His body was brought by sea from Invergordon to Yarmouth, and was buried in the nave of Norwich Cathedral, which also has a fine window in his memory. The last time I saw it, his memorial was hidden by stackable chairs and the debris of modern worship.
Family
Stanley married Catherine (1792-1862), eldest daughter of the Revd Oswald Leycester in 1810. They had had five children; Owen, Mary, Arthur, Charles and Catherine, each one of whom is of interest in their own right.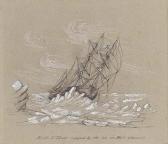 HMS Terror in the ice, by Owen Stanley
Owen Stanley
(1811-1850) was an officer in the Royal Navy and noted explorer. He spent four years as a midshipman surveying South America, 1826-30, and was a Lieutenant on HMS
Terror
, during its 1836-37 expedition to the northern part of Hudson Bay. The ship barely survived the winter, at one point being forced 40 ft up the side of a cliff by the ice. In the spring of 1837 an encounter with an iceberg further damaged the ship, which was in a sinking condition by the time the captain was able to beach the ship on the coast of Ireland at Logh Swilly.
In 1846 Owen sailed for Australia as captain of HMS
Rattlesnake
, with the purpose of surveying the seas around the Great Barrier Reef and Torres Strait. Junior naturalist on the ship was
T.H. Huxley
, soon to be known as 'Darwin's Bulldog'. The bishop, as President of the Linnaean Society, was instrumental in having Huxley's early papers published. Owen would send cases of bird and shell specimens back home, where the family would assemble in the front hall of the palace to open the treasure chest, and would marvel at a little oppossum in a bottle. Owen died on his ship in 1850 and was buried in Sydney.
Mary Stanley
(1813-1879) worked to support poor women. She had a home in Norwich for factory girls and trained them in the production of lace. In 1854, she went to the Crimea in charge of fifty nurses under Florence Nightingale. In 1856 she converted to Catholicism, in the second wave of 'Puseyite perversions'. She worked closely with
Henry Edward Manning
, continued with her philanthropic work, establishing savings clubs, an industrial laundry and creating employment for soldiers' wives in the production of army uniforms. During the
Lancashire 'cotton famine'
of 1861she helped
Mrs Gaskell
distribe aid to the unemployed weavers.
Arthur Penrhyn Stanley (1815-1881) became Dean of Westminster, and will almost certainly earn a 'Dead Bishops'
blog entry of his own
.
Charles joined the Royal Engineers, and was stationed at Hobart, Tasmania (then Van Diemen's Land). He died suddenly in 1849 from gastroenteritis - he, his father and his brother Owen all died within eight months of each other.
Catherine Maria married the Revd Charles John Vaugham, headmaster of Harrow School and Dean of Llandaff. She died in 1899.